Interest in intentional communities is on the rise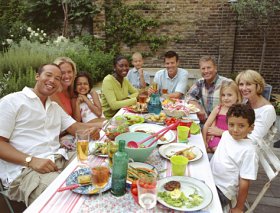 In our own backyard, EcoVillage of Ithaca's third neighborhood consisting of 30 new homes has sold out with an ever expanding waiting list. Gerald Celente, director of the Trends Research Institute in Rhinebeck, N.Y., sees intentional communities as one of the leading trends of this century. Starting with the astonishing results of the Roseto study, (University of Oklahoma Press, 1979), numerous studies have proven that living in tight-knit, interactive neighborhoods contributes more than diet, exercise or even genetics to health and life expectancy.
An aging population
According to the Census Bureau and the National Center for Health Statistics: "The next generation of retirees will be the healthiest, longest lived, best educated, most affluent in history". The likelihood that an American who reaches the age of 65 will survive to the age of 90 has nearly doubled over the past 40 years. Surveys of this group by the National Association of Home Builders and Metlife Mature Market Institute indicate a passion for active, purposeful lives well past retirement age.
A growing green market
According to the National Association of Home Builders, when 800 registered voters were given a list of motives for either purchasing a new green home or remodeling their current home to make it greener, nearly two-thirds (64%) identified "reduced energy costs" as an important factor, followed by "because it would be healthier," and it's "the right thing to do for the environment." (www.nbnnews.com, Nov. 2007)
When asked to list their top 12 influences in buying a home, consumers responding to a National Association of Home Builders survey last year put energy efficiency at No. 2, behind quality of living space. Five years ago, energy didn't even make the same survey. (The Huntington Post, February 2009)
Some marketers track a segment called LOHAS: Lifestyles of Health and Sustainability. In 2005, this segment represented only three per cent of North American consumers, but it has exploded to 43 per cent today. (Backbone Magazine, May 2008)
If where the money is going is any indication, Cleantech Group, an industry research firm, reports venture capital investment in the green technology sector commanded 27 percent of all investment dollars in the US in the third quarter—amounting to over 1.5 billion.
Resurgence in urban living
According to a 2010 US Environmental Protection Agency Smart Growth report there is a strong national trend to move back to urban areas; residential permits in downtown and close-in-neighborhoods have more than doubled in 26 regions since 2000. The increase has been particularly dramatic over the past five years has remained strong in the wake of the real estate market downturn.