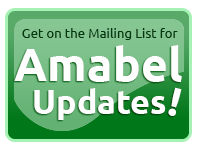 Life at Amabel
Many of us long for a quiet place surrounded by nature, the sound of peepers in the distance, a gentle breeze drifting through the leaves, soft light filtering through—a life-giving and restorative setting. Other times we crave interaction with people, perhaps to share a joyous moment or the reward of pulling weeds, to "play" with us in an interesting inquiry or dilemma, and, at times, to share our sorrow when we've suffered a loss. We want both of these things: quiet solitude and meaningful interaction.
With the pocket-neighborhood model, Amabel will fulfill both of these desires. The common spaces, play areas, and social practices will make connected living easy, as neighbors naturally encounter one another in the flow of daily life. Harvesting fresh, organic tomatoes in the community garden, helping a neighbor clear an icy sidewalk or repair a bike, playing catch in the meadow, co-creating the values of Amabel—activities like these and others will nurture deep, fun, and meaningful connections.
Privacy will be just as important at Amabel. Flanked by mature trees, the house, and an optional vegetative fence, each back or side yard will be a sanctuary to quietly enjoy the site's amazing beauty or to host private gatherings. Layers of personal space in the front yards will include a border of perennial plantings, the private front yard, and a covered porch large enough to serve as an outdoor room. Within the houses, active spaces are oriented toward the commons and private spaces are further back and above. To ensure privacy between neighbors, the cottages "nest" together: The "open" side of one house faces the "closed" side of the next.
The Amabel mission regards communication and deep connection as crucial parts of sustainable, vibrant living. But even though we naturally form tribes and groups, people wonder, "Can I really have close and fulfilling relationships with my neighbors? Can we really resolve the problems that will inevitably arise?" These are valid concerns: Communication and trust do not simply happen without commitment, support, and structure. For this reason, the neighborhood design includes both physical and social structures.
An engaging people-centered process called Amabel Connection will make getting to know one another fun and easy. The process will begin with resident-only interactive pages on the Amabel website. From there we have gatherings, dinners, hikes, gardening, and engaging, powerful workshops. By the time residents move in, they will have discovered what their neighbors really care about and what really matters to them.
This process is based on New Earth Living's view of integration: honoring differences and promoting linkages. Linkages are formed primarily through compassionate communication. Integration is not the melding of differences into homogeneity; it is honoring differences and creating linkages of respect and trust among the vibrant diversity that makes life so fun and interesting.
After move-in, residents will co-create the core values of Amabel, along with systems and practices that support them. These shared values might be health, vibrancy, play, fun, ease, care, respect, trust, or whatever the residents choose. This chosen culture will provide the framework and environment for partnership and trust, two key components of a resilient and vibrant future.
For the care and maintenance of the road and water/sewer systems, residents will be members of a homeowners association. The brilliant new collaborative organizational method called Dynamic Governance, coupled with active listening, will be the primary governance and decision-making tools.
Governance and Communication
In addition to Amabel Connection, neighborhood social structures will include two other components: Dynamic Governance and active listening.
Dynamic Governance (DG)
As explained by Diana Leafe Christian, Dynamic Governance, also called Sociocracy, is a self-governance process and decision-making method that helps groups of people to easily and harmoniously achieve their purposes. Created by Dutch engineer, inventor, and cybernetics expert Gerard Endenburg in the 1970s, DG recognizes three aspects of a healthy, thriving community:
"

Community glue," or shared, enjoyable activities such as meals, tasks, games, and events, which generate trust and gratitude and make communication and problem-solving easier.

Good process and communication skills. Communication skills refer to how people talk with one another, whereas process skills are how they gather to get to know one another, consider ideas, understand emotions, and address conflicts.

Effective projective management, or the ways in which a community creates and maintains its legal entities: how it finances, purchases, and develops property (hiring contractors for construction, bookkeeping, website design, etc.); how it organizes and tracks community finances and member requirements; how it attracts and orients new members; how it maintains community documents, policies, and decisions.
These three foundational elements reinforce one another. Community glue can strengthen process and communication skills as well as effective project management, and the latter can reinforce community glue. For this reason, effective community governance is at the center of these practices.
Other key features of DG include consent-based decision-making and the idea of feedback loops for evaluating proposals. The use of consent, rather than pure consensus, allows communities to draft proposals that are "good enough for now" and "safe enough to try" because they require simply a willingness to try an idea, with the understanding that proposals can be tested, reviewed, and even revoked.
This is where the idea of feedback loops come in: Proposals benefit greatly from measuring and evaluating their implementation, which allow them to be modified as needed. With this method, rather than needing to reach absolute consensus, groups can relax, knowing that there is less need to predict future effects and control all factors of a decision. Proposals do not need to be perfect.
Active Listening
Dynamic Governance's three elements of a healthy community depend on our ability to listen effectively. It is no coincidence that "community" and "communication" share the same root: "commun." To "commune" means "to be in a state of intimate sensitivity and receptivity."
What if, instead of information transfer, communication meant being sensitive and receptive in conversation? What if, instead of a geographic area or like-minded people, community meant a group of people who are sensitive and receptive to one another? New Earth Living has designed a listening workshop that illuminates and makes accessible these principles and practices.
The New Earth Living listening workshop illustrates the relationship between a sense of trust and connection (community) and a reflective communication practice. Deep Listening trains a listener to look for the commitment, concern, or passion underlying a speaker's words and to reflect back messages in a way that indicates dedication to what matters to the speaker. Participants develop a capacity and willingness to understand a speaker's world and to subordinate the primary obstacles to effective listening: judgment, opinion, and the universal desire to give advice and reassure. In this way, participants learn powerful new communication skills that foster reliance, confidence, and flexibility.
The process is so powerful that speakers will many times see new and hidden aspects of their own perspectives. As a result of this and of the listener truly understanding the speaker's world, concerns and conflicts are often quickly resolved. Revealing the true issue at hand often allows new possibilities to emerge.
Communication is the access to community. Community is the core of resiliency, and resiliency is at the heart of sustainability. The NEL listening workshop helps people to understand and, more important, to realize these crucial links with confidence and joy.
Amabel's Unique Offerings
As a New Earth Living community, Amabel is different from traditional ecovillage and cohousing communities. Amabel focuses on ecology and sustainability (like an ecovillage), and it features some shared property (similar to cohousing) in that residents will hold in common the barn and the land not enclosed in individual parcels. But the Amabel neighborhood is also designed to help residents meet the challenges inherent to communication and connected living. Developing trust, making friends, and achieving governance decisions can happen only if people communicate with ease and overcome their fears of mistakes.
People need support and structures to develop ease and security. The community-building practices of Dynamic Governance, active listening, and Amabel Connection will provide the support and guidance to help residents make Amabel a deeply connected neighborhood defined by trust, caring, and fun.
In addition to providing the only large pocket neighborhood within walking distance of downtown Ithaca, Amabel will be the only such community in the area to offer these intentional social practices.